Of course he'll take it
especially if it's rusty old junk that needs work!
These words from my bride concerning my newest project.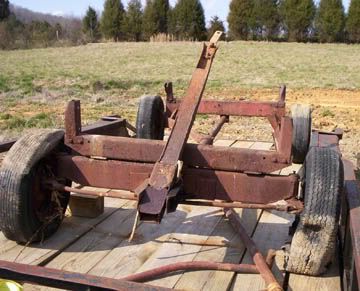 This is a running gear for a hay wagon that my neighbor Larry gave me over the weekend. His daddy bought it new from Sears and Roebuck in 1951-52 (he doesn't remember exactly). He gave it to me because he knew that I will fix it up and use it.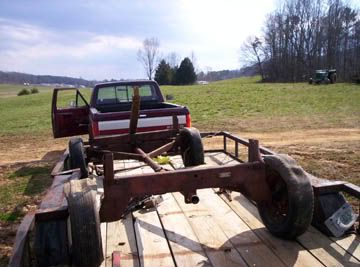 I do wish I had a picture of it before we loaded it on the trailer... there were about four trees growing through the bed. The bed pretty much disintergrated when he pulled it out of the briar patch. It needs a considerable amount of work, but there is no such thing as too many wagons or trailers when it's time to move hay. If I can get this one and my John Deere wagon rebuilt, that will give me four wagons for this season. I guess I'm on my way to having a collection. One Massey, a Gehl, a John Deere and now this critter. I'm not sure who made these things for Sears, but as you can see in the photo, the tag with the SN# is still intact.
It may not look like much, but a little torch work, sandblasting, paint and new tires will make a world of difference. I will put up photos of the finished wagon if I don't forget.
He said Daddy tried to buy it from him back when I was just a little feller. So that kind of tickled me that he thought to ask me if I wanted it.