Stopped and looked at four Ferguson tractors sitting by the road today with for sale signs on 'em. Dr, who was with me, pointed this out to me and asked (jokingly) if this ball was welded on the front bumper so people could take their tractors on vacation with 'em.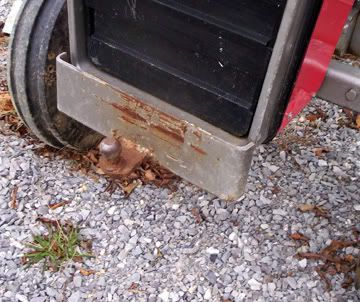 And of course, I'm never going to turn down the chance to put more $hitty photography out on the web!
Speaking of which, I have a few from South Georgia, mostly consisting of tractors I wish I had the wherewithal to buy.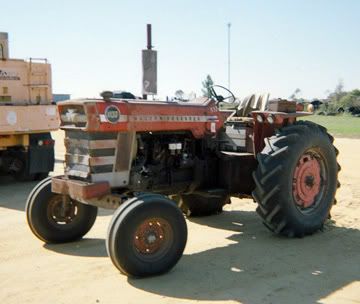 A well worn Ferguson 1100 that was at Weeks Auction in Moultrie. It might actually be in my price range (cheap!) because of its age and condition. The folks who come to the auction to buy are generally looking for newer machines.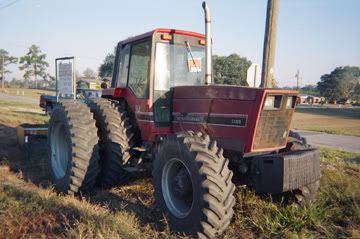 An International Harvester 5488. I need it like I need another hole in my head. If I'm not mistaken, that thing has a DT-466 under the hood, generating 160hp at the pto. That's a teensy weensy bit of overkill for me. Still, it's different. Not many of them were made (compared to other IH models) and the are the last of the real IH tractors to come off the assembly line at the Farmall plant.
After having a conversation with TC's Uncle Pierce yesterday, I had an idea for a really good post, but I need to do some thinking before I try to write it. Ya'll may still have more rusty junk pictures to look at before I get that far.