More rusty junk
Why? Because I'm not in the humor to write.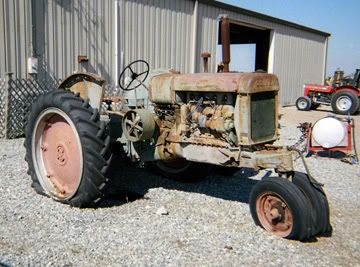 This is an Oliver Hart-Parr 18-27 (I think) dating from the 1930's. The "18" was the drawbar horsepower (in other words, how much it could pull), whereas the "27" was "Belt" horsepower, as in how large a belt driven implement it could run.
This was down at Weeks Auction in Moultrie. Olivers of any model are not common in South Georgia, one this old is a very odd find... unless of course, someone has brought it in recently to restore, which is always a possibility.
Speaking of odd finds in the South, we have a Silver King that I saw at the Cleveland auction recently. I have read (somewhere) that Henry Ford considered the Silver King the best machine on the market in the 30's and had his engineers take one apart to study before Ford began building the N series tractors.
Sorry, that's it for now.