Tractor Porn! With Bonus Aircraft Porn!
I went to an equipment auction Saturday, first one I've been to in a while. I really had no business going, as there is not exactly an excess of cash around the ole homestead these days, but I wanted to go do something besides work for a change.
My only purchase was a drill press, which was one of those deals that was too good to pass up.
Anyway, on to my usual bad photos of rusty junk....
I thought this was a pretty nice looking little Avery, it sure sounded good when they fired it up. No idea what it brought as I had went with TC to get a hamburger before it sold.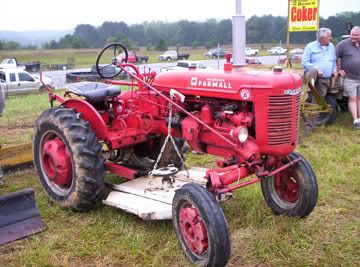 The little A brought $1800 and was a no-sale. I think the fellow that owned it wanted $2000. Really and truly, you can't buy a decent riding mower for that.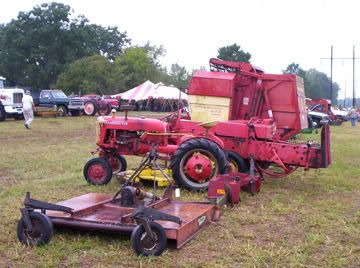 Rows of rusty junk...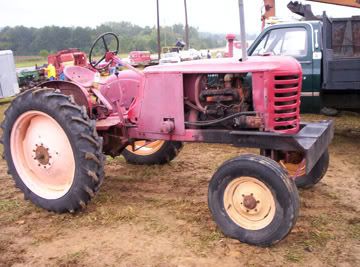 Some model of Massey Harris, no idea what it was, no tags and no decals left on it.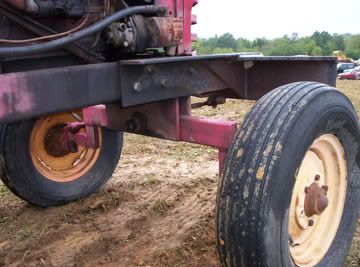 It did have an interesting example of redneck engineering in the homemade wide front end. This is actually a heavier built front axle than one from the factory.
Now, for some non-farm related antiques...
This is not something you see a typical farm equipment sale....
Actually this was the wasn't first plane I saw, the first one was a jet that came whizzing overhead with the landing gear down. I knew it was an F-80 or a T-33 or an F-94 (wasn't sure which of the three, but knew it had to be one of 'em), so after the sale we went down to the airport to see what was going on.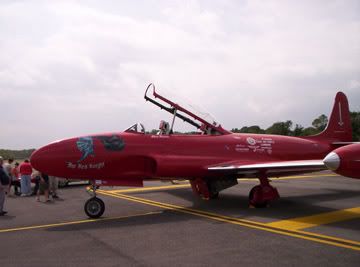 It did turn out to be a T-33.
As it turns out they were having a fly-in at the local airport, but we had missed most of it by the time we got there, but there were still a few interesting things to see...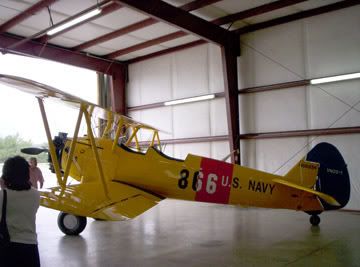 And finally, the one that got me all hot and bothered.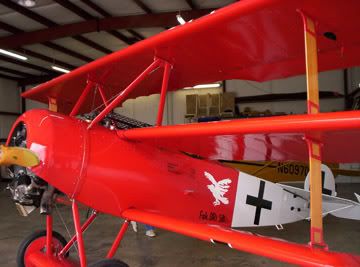 The first thing that struck me was how tiny it was. You can read specifications all day long, but until you are standing beside it, it don't really register.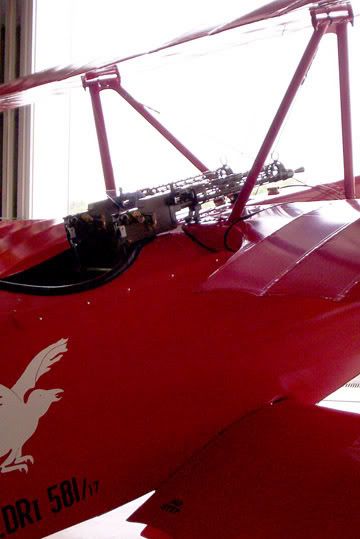 This machine is a repop, there are none of the real ones left in existence. The Germans did have one of Von Richthofen's triplanes in a museum, but it disappeared during the latter days of the Second World War. From what I understand, there were only about three hundred of them built.